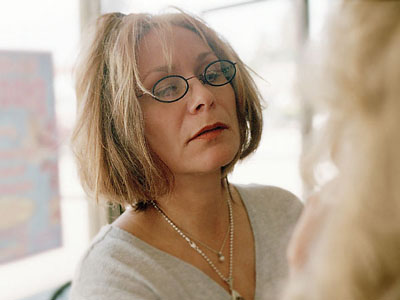 Welcome to the web site of Illusions by Melanie.
I am a professional makeup artist, located in Seattle, Portland, and San Francisco. I am a two time winner of the Seattle Women In Film Nell Shipman Award for Best Makeup Artist.
I am certified and trained, in makeup at Complections International College of Makeup Art and Design in Toronto. I am now experienced in all aspects of makeup including, fashion editorial, film makeup, TV and video (including high definition), commercial print, period, airbrush, portraits, SPFX, and theatrical. I specialize in airbrushed foundations and tattoo concealment. I offer on-location makeup service for a select bridal clientele. In-depth color analysis is also available. I am also certified for hair design at Joji's Hair Academy in Vancouver, BC.
I teach personalized, one-on-one makeup lessons for changing your own look, or complete courses to prepare you for a career in makeup artistry.
I have had the good fortune to work with many interesting and talented people. I have worked in NY, LA, Seattle, Vancouver, Portland, Toronto and many other interesting places. I have done commercial work for numerous large corporations like Microsoft, Intel, Nike, Lexus, and Premera. I have worked on numerous TV shows and most of the large networks and local stations including, ESPN, CBS, ABC, NBC, CNN, ELN, KOMO, KBTC, for the Emmy Award winning "High Bar" with Warren Etheredge, many KCTS programs, The Dr Phil Show, The Today Show, several E! True Hollywood Story episodes, Good Morning America, the US Open, Bang for Your Buck, The Home Team. Some of the famous people I have had the pleasure to work with are: Author, Nora Effron, Melanie Liskey, Radio Star "Delilah", Stewart Stern, Elliot Gould, Dan Savage, Aisha Tyler, Jeremy Scahill, Tom Skerritt, John Curley, Donny Osmond, Richard Karn, Drew Carey, Ann Rule, Enrique Cerna, Bill Gates Jr. and Sr., Try McClain, Graham Kerr, Producer Lucas Foster and others. I have also worked on Bellevue Fashion Week. I have worked on about 50 films, mostly independent.
AND NOW…I would like to work with you!
Recommendations
Just wanted to follow up and let you know I have been able to "practice" with my look a couple times now and each time i am so excited with the results. THANK YOU SO MUCH! I will sing your praises to my ... friends and who knows maybe one will visit. I am really grateful for your help...
— Missy
...I wanted you to know that things went VERY well and that my make-up looked fantastic...so good in fact that men were approaching me despite my date (Daniel) standing right next to me. --I've never gotten so much attention in my life!...
— Darcienne
...from Melanie's LinkedIn profile...
Charming and energetic, Melanie is the most connected, ambitious, talented and creative person I know in the industry, She is well thought of by everyone in the industry in which she serves...and seems to know everyone, and is more that willing to connect them with others with whom they may have a beneficial relationship. I delight in calling her friend. She is an accomplished professional in her craft, and you can be sure if you choose Illusions by Melanie, for your project, you will be more beautiful for it, both inside, and out.
— Diane Moore, Account Executive, Media Index Publishing, March 22, 2010
Melanie is a talented and professional hair and make up artist. She is able to create both subtle, professional or lifestyle looks OR create an original, theatrical concept. I would highly recommend Melanie.
— Kate Baldwin, President & Photographer, Kate Baldwin Photography, Inc., February 10, 2010
Melanie is a very talented professional make up artist. Her portfolio is very impressive. I enjoyed watching her on the set of Hometeam with Troy McClain.
— Mozelle Spencer, Artist/Owner, Mozelle by Design, November 19, 2009
Melanie and I have worked together on many video production projects, where she has consistently proven her ability and expertise in makeup. Always fun and a pleasure to work with, Melanie provides what every producer wants: confidence in her work and reliability that allows me to worry about other things! I look forward to our next opportunity to work together.
Top qualities: Great Results, Personable, On Time
— George Riddell, Victory Studios, August 13, 2009
Melanie is a complete professional. She loves her work and excels in it. She is also a wonderful person to work with...very personable...works well with entire crew and cast. I recommend her highly and will personally use her in my future projects.
Top qualities: Great Results, Personable, Expert
— J. Daniel Dusek, May 7, 2009
Melanie worked her magic on my first national project, "Courage Doesn't Ask", an action war piece. Lighting was challenging as we shot in a hospital and then a night-for-night battle scene in full battle dress, complete with close ups of wounds and faces of actors. It was a very challenging environment to do hair and makeup and Melanie was expert in all facets. Not only would I hire her again, it's doubtful I'd shoot without her!
Top qualities: Great Results, Personable, Expert
— Joe Acton, April 21, 2009
Our studio has hired Melanie to work on a number of projects and we can always count on excellent work. She has a fantastic eye and a creative spirit. Melanie's experience is top-notch and she is a professional in every way.
Top qualities: Great Results, Expert, Creative
— Michelle Dean April 15, 2009
As an owner of a video production company I need the services of a talented, creative and experienced makeup artist to work on my shoots. I can honestly say I found just the right person in Melanie. I highly recommend he work and know she can handle any shoot.
Top qualities: Great Results, Expert, Creative
— Carol Carini, April 14, 2009
Melanie and I worked on the Camp Erin PSA project for the Moyer Foundation. Melanie's is a wonderful make up artist and I am looking forward to working with her again. She is very personable and talented.
— Nan Avant, Composer, Moyer Foundation Camp Erin PSA, April 13, 2009
Melanie and I have worked together for a couple of years by now on films, events, advertisements and creative projects. She brings a lot to the table with any project she is involved in, and always gives 110%. Not only is she amazing with makeup and hair, but she is responsible, dependable and reputable. She continues to be an inspiration in my career. It is rare that 2 successful Makeup Artists can work on the same face at the same time - but she and I have made it a sensational success. I would recommend Melanie for any project, professionally and personally.
— Christina Schock, Independent Makeup Artist, SchockMakeup, March 20, 2009
Melanie and I have worked together on multiple shoots over the last several years. She's not only an expert HMU stylist, she's also incredibly knowledgeable about our industry as a whole. Her passion for the film/video/photography industry is what sets her apart. She constantly updates her skill set and portfolio to stay ahead of the competition. She's fun to work with, gives back to the community often and has a heart of gold.
Top qualities: Great Results, Expert, Creative
— Rebecca Van Pelt, March 13, 2009
Not only is Melanie great in her profession as a Make-up Artist, but she is also very creative and personable. The first time I worked with Melanie, we became great friends. Her energy puts a smile on your face.
Top qualities: Personable, Good Value, Creative
— Justice Beitzel,February 25, 2009
I hired Melanie to do my hair and make-up for a New Years party. First of all, I had fun. Second, I looked great and felt confident. The whole process was comfortable and Melanie really listened to what I was looking for and gave great recommendations. Parties are so much more fun when you feel like a princess. I highly recommend Melanie!!
Top qualities: Great Results, Personable, High Integrity
— Laura Parker, February 24, 2009
I highly recommend Melanie as an artist in television and film make-up. She does a great job, is fun, works well with talent, and creates a nurturing yet professional atmosphere on set. She brings style to any location (she has the greatest glasses!). I will always work with her when I have shoots in the greater Seattle area.
Top qualities: Great Results, Personable, Expert
— Rhea Gavry, January 13, 2009
In November 2008 Melanie did a special effect/costume make-up session for me before I attended a party. When I contacted her, she got back to me promptly and scheduled me right away. She was creative, personable, and great to work with. She listened to my color requests and included me in the design decisions. We collaborated well together and I was satisfied with the outcome. I would definitely hire her again. I ended up learning some interesting things about make up, and it's obvious that Melanie really has a passion for her craft.
Top qualities: Personable, Expert, Good Value
— Linda Eaves, January 13, 2009
Melanie is force of nature. She excels at her craft and is a pleasure to work with. I highly value the energy she brings to a shoot. Ultimately, she delivers the goods. I'd hire her again in a heartbeat.
Top qualities: Great Results, Personable, Expert
— Joe Shapiro, July 20, 2009
Melanie is awesome to work with. Her work for one of our films "Last Looks" got us an award for best hair and makeup. Her enthusiasm is contagious and she always brings a smile to the cast and crew. I have worked with her several times in both print and film and would not hesitate to work with her again.
Top qualities: Great Results, Personable, Creative
— Scott Phillips, February 24, 2009
Melanie has an outstanding portfolio of hair & makeup design that ranges from natural beauty through high fashion, from gory corpses to ephemeral fantasy fairies. She works incredibly hard and has a deep well of ideas and looks. Melanie is generous with her time & knowledge; she's been a loyal member of Women in Film and donated herself and her team to events for this nonprofit association. Everyone in town, from screenwriters to photographers, has good things to say about Illusions by Melanie.
— Michelle Sheiman, Executive Producer, Nell Shipman Awards, Women in Film, February 24, 2009
Even more information about Melanie is available on her Model Mayhem profile.